The first version of Commission Blueprint revealed the amazing formula we used to pull in over $100,000 every 30 days promoting cheap little Clickbank products. But this time we've taken it much... MUCH further, as we pull out ALL the stops and release:
A Complete Arsenal Of PROVEN Affiliate Formulas We've Used To Generate As Much As $51,141 In 24 Hours Without Spending A Dime On Paid Advertising!
-------------------------------------------------------------------------------------
In the next 3 minutes, the "combination" will finally click and everything will fall into place as this exceptionally detailed step by step blueprint will allow you to replicate the exact affiliate formulas we use to consistently generate thousands of laser targeted visitors and repeatedly pull in 5 or even 6-figure sums every single month... or even in a single week!
But first, please watch this HIGHLY important video...
| | | |
| --- | --- | --- |
| | This text will be replaced | |
Hey, Tim and Steve here,
Thanks for watching the video... Listen, if you're reading this page then there's a high possibility that you will already have heard about the rumours and frenzy surrounding this opportunity, have seen the conclusive proof that this system works and are ready to stake your claim...
If so, quickly scroll down to the foot of this page to reserve your place... Time is VERY tight and the doors are NOT going to be open for long...
However, if you need to read the full details about why places have been snapped up so fast, then don't panic, there is still time, but...
Read This Page Carefully But Quickly...
...you do NOT want to be left out in the cold.
You see, unless you've been hiding under a rock for the past 12 months, you will probably have heard of the original Commission Blueprint course... It broke records... It changed the game - in fact, affiliate marketing has NEVER been the same since it's release...
The secrets we revealed helped thousands make money online, the response was overwhelming and the feedback and success stories on our forum were (and still are) incredible. It totally blew us away - although to be honest, we weren't that surprised... and for one simple reason:
We gave up everything we knew about how to make massive money with Adwords... And we knew A LOT... more than most other marketers combined.
We revealed literally every last intimate detail surrounding the precise strategies we used to create $100,000+ months promoting cheap little Clickbank products.... which, by the way, we are STILL going to show you how to achieve.
However, due to the overwhelming popularity and quality of the product...
The 20,000+ People Who Bought The Original Course Have Been Begging Us For More...
They knew our techniques worked, and when it occurred to them that we had ONLY given up a fraction of our overall knowledge about how to make thousands of dollars each week online, they began crying out us consistently (the whole way through 2009) to give them more of the same...
But to both our customers and our on-lookers, it seemed like we weren't budging.... and they began to get impatient... although little did they know that behind the scenes we were quietly working on their demands almost 24/7.... working to deliver exactly what they wanted...
Our motto has always been to over deliver, and we didn't want to disappoint... and a few weeks ago, after months and months of work, we completed the mission...
Everything we knew was now documented on video and in writing, ready for the world to see.... And all I can say is this - this time we have over - OVER delivered, and if you keep on reading you'll see exactly why...
The simple fact of the matter is this....
The Game Has Changed - AGAIN!...
This is the only package you will ever need to make money online. We cover literally ever last tactic and technique we use to make millions of dollars each year...
There's Adwords, Search Engine Optimization, CPA marketing, Clickbank Promotions, Site Design, Landing Pages and Conversion Strategies, Email and Article marketing... the lot.
If its a tool that we use, it's in there... if it is a tactic we use it's in there and let me tell you, this entire course is game changing. It is completely revolutionary.
We include every single internet and affiliate marketing technique we have use in our own business to create crazy online paydays like these:

....and those are just a few examples. We could fill an entire book with screenshots if we had the urge.
But listen... I know what you're probably thinking... we're doing the exact same thing as everyone else by showing you examples of what we've achieved ourselves... and we'll be the first to admit that for YOU, it doesn't really help...
We want to be totally transparent and realistic here...
Even though countless customers of ours have achieved great things and massive paydays, it may take you a long time to replicate the same results as us. In fact, it may never happen. We don't know you, how capable and determined you are... and for us to say that you will definitely achieve the same results would be outright insane - obviously.
However, we need to show proof of what we can do to install some confidence so you'll listen to what we have to say and what we are going to teach you... because believe me, we know what we're doing!
...and we're not the ones who realize this:
"Steve And Tim Are The Real Deal..."

Hi, Tom here from Seattle. I purchased Commission Blueprint early in its release. I was so blown away by the quality of the product and - just as important if not more so - by the jaw-dropping personalized customer service that Steve and Tim provide that I became a monthly membership customer. Following that, I purchased Niche blueprint the first day it was released. These products enabled me to go from nearly zero knowledge in Internet Marketing to having several PPC campaigns under my belt, plus one online store. The only thing holding me back now is lack of time to fully implement the vast amount of knowledge contained in these products.

Even beyond that, I've applied their materials and advice to a Clickbank product of my own that was doing nothing and have converted several hundred dollars in sales recently. On top of that, I've also applied their concepts to a three year old "information" oriented website I own for which the traffic had peaked long ago and I'm seeing traffic increase by over 10% per month, along with my AdSense income.

Forget every other product and so called "IM Guru" you see on the Web...Steve and Tim and are the Real Deal. Their products and advice are all you'll ever need to succeed online.

Wishing you all much success,

Tom
Job-Search-Steps.com
...and as you can see on the right, even Clickbank interviewed Steve and placed a case study on the website to help with their 'PR'!

So... what's the point of Commission Blueprint 2.0 and how will it help YOU?

In a nutshell, our aim is to take beginners to a level where they can quickly quit their job and also to help those who are more experienced to get to an even higher level than they are at at the moment... and we are VERY confident we can do this for you because we've done it for others countless times before.
Truth be told, we're tired of developing this... we want it in your hands as soon as possible... and this is why......
It's So Important That You Are Here...
You see, the benefits of becoming a successful affiliate marketer are unreal. You can do what you like, when you like (as long as it's legal of course :-) )... and the most liberating thing about it is that you can run your business from anywhere in the world...
I mean we both go on multiple vacations... have business meetings on Steve's boat in the Bahamas... fly all over the world either business or first class... (and never coach or economy)...

Basically we have as much spare time as we want... and still earn money... even when we sleep.

The reality is that if you REALLY want to, you CAN do this too... if you have the drive and determination to succeed.
The truth is that neither of us are special in ANY way - Yes, it took us time and it took us effort and it certainly did not happen over night... in fact it took months and months to work out how to make money in this game...
...But That's Exactly The Point:
We have the knowledge to save you the heart ache and pain by telling you and showing you how you can make money RIGHT NOW... without you having to do the grunt work.
...Maybe not in such a way that you can go out and buy yourself a million dollar boat next weekend... but so you can hopefully begin making $100, $200 even $500 each day... or enough so you can quit your job and concentrate on your online business fully and then go on to make your dreams a reality, no matter what they may be...
Essentially, if we knew then what we know now when we both started, it would have saved us from throwing away tens of thousands of dollars on misleading products, courses and mentoring... and would have avoided all the blood, sweat and tears and a hell'uva lot of frustration. We want to get you there fast...
...And Here's The Good News:
You don't need thousands of dollars to start a business and make money in an area such as this...(in fact most of our tactics concentrate on methods where you don't need to spend a single dime)... all you need is your time and attention... and that's the truth!
Honestly, what we are going to show you is on an entirely different level...
...and there is one very good reason why:
Our training is unmatched - this isn't like anything else you have seen before...
We show you ground breaking and easy to follow techniques for keyword research, finding offers to promote, driving tons of free traffic with Google... including stuff that most people have not seen before. It is a COMPLETE brain dump with material that you can use to start making money with immediate effect, if you take action today.
Of course, its easy for us to say this... and almost as easy for us to show you how to do it...
...but the point is that you need to be able to see it, touch it, feel it and that is why we have set the instructions out in such a way that'll make this process seem like a walk in the park... and we'll go through precisely what we have in store for you in just a few moments time...
But first, let me just spell out one of the things that really sets this out from the crowd...
Two words... Case Studies
Case studies are absolutely essential - they are one of the easiest ways to replicate what someone else is doing successfully and that is why we have countless examples of these in Commission Blueprint 2.0...
I mean, we even show you one project that made us $500,000 profit in a single year and reveal the exact techniques we used to achieve these numbers.... frankly, it's an awesome sight to behold.
But let's take this one step further...
...Here's A Quick Example Of ONE Of The Most Simple 'Make Money' Formula's In Commission Blueprint 2.0...
...and if you are new to affiliate marketing, concentrate hard as this really does prove that there is no black magic involved when generating the sort of numbers we showed you in the screenshots a moment ago. It's just a process - you just need to know what that is... and how to rinse and repeat it.
Allow me to explain....
There are over a billion people online each day looking to buy stuff in totally bizarre niches and markets that neither you or anyone else ever knew existed...
...and using our 'sneaky' techniques, one of the things we will show you how to do is *pin point* these niches using our "members only tools", implement a few cunning tactics to achieve position on the first page of Google, sell what the people searching for this phrase want to buy and consequently make money from it. It's really not that difficult...
Just like this example for the "build a chicken ark" (!!) market...

| | |
| --- | --- |
| | Step #1 - Research & Optimize |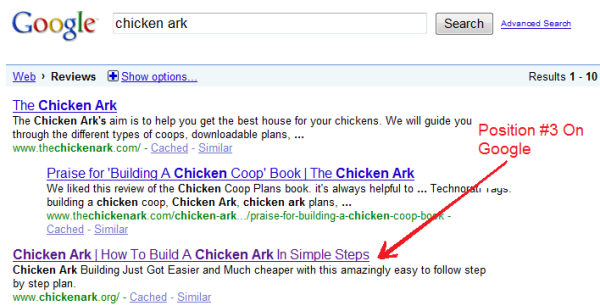 Step #2

- Get Ranked & Get Results
..And of course, this is just ONE site... plus it is purposely one if the most understated examples we've ever shown...
Imagine the numbers that could be generated for the 'weight loss' market where the number of searches on Google is ONE THOUSAND times greater each day. Just do the math on that!
I mean, we could show you single campaigns making $3000 each day. But I'll say it again, we are going to be totally realistic here - this is just ONE beginners method that you don't need any prior experience to implement... plus it is something you could quickly and easily replicate with minimal work - and no money spent.
...and of course, you could quickly set up 10 of these ultra simple mini-sites and would be in a position where you could be earning $400 or more every single day...
Seriously, this is a shockingly simple process...
1. Download the Information
2. Apply The Formulas
3. Get Free Traffic
4. Start Making Money
5. Replicate The Process Over And Over Again
End result..?
No longer will you have to put up with being one of the thousands of frustrated people fighting for scraps while others are cashing in hand over fist...
...because if you're sick of buying endless junk filled products and watching the gurus living their dream lifestyle with your hard earned money, then the game is about to change...
Introducing...
** Commission Blueprint 2.0 **
If you can point and click a mouse, then you can have a business that's practically guaranteed to pull in massive profits because in 'Commission Blueprint 2.0' we'll be handing you...
| | | |
| --- | --- | --- |
| | | On-going support from both our email help desk and our buzzing forum. In fact, we now have over 4000 forum members getting advice from us and helping each other to success on a daily basis. |
| | | |
| | | Exclusive access to the "in-house" tools and software we use to make thousands of dollars each week with affiliate marketing. These tools are worth 5 times the price of the course alone! |
| | | |
| | | Instant access to the step by step training tutorials which include over 50 videos & 20 instruction manuals setting out a complete blueprint that could enable you to quit your day job in a matter of weeks! |
| | | |
| | | Some really cool case-studies showing you our methods at work including campaigns and promotions that have generated over $500,000 in profit and over $40,000 in a single day! |
| | | |
| | | Everything you need to succeed. Unless you want to, there will be no need to buy anything else which will therefore save you thousands of dollars on other ebooks and courses. |
| | | |
| | | Countless strategies you can use to boost your income and profits immediately. In fact, we have material specifically designated and labelled just for you! |
...and that's not all:
| | | |
| --- | --- | --- |
| | | There is nothing else to buy. There are no up-sells or OTO's... Commission Blueprint 2.0 is one complete package and we will continue to keep you updated on new techniques as and when we discover them! |
| | | |
| | | You'll have exclusive access and entry to affiliate networks which will mean you'll never have issues with getting 'approved' again. This is priceless to someone who is just starting out. |
| | | |
| | | If you have money to spend on paid advertising, we'll show you how to spend it wisely by revealing numerous strategies designed to super-charge your affiliate profits on your advertising spend. |
| | | |
| | | If you DON'T have money to spend on advertising, we'll show you how to get traffic and sales for FREE... meaning ZERO additional costs. In fact, over 50% of our strategies concentrate on free income strategies. |
So How's This Going To Work... And Exactly What Are You Going To Get?
Let's start from the top...
Firstly, there are the tutorials....
I'll get to the specifics in a moment, but to give you a taste as to how comprehensive and obsessed we have been when putting this course together, they contain no less than 50 step by step videos and 23 manuals... Plus, each part is sectioned out for beginners, intermediates and advanced users so you can hand pick the content you need to start making money in the shortest time possible...

| | | |
| --- | --- | --- |
| | 450 Easy-To-Follow Videos And 23 Step By Step Manuals Revealing All Our Techniques! | |
Then there are the tools....
One of the things that all successful affiliate marketers have are tools and software to cut through the BS and pin point products and promotions that will actually make them money...
....and that is why we have spent just over $90,000 creating the tools for Commission Blueprint 2.0. And these are ones which are so effective that up until now were, for the most part, a well hidden secret...
Of course, there are 'tools' and there are 'tools'... but let me reassure you that these are the real deal. They are not sold anywhere else, they have been designed specifically to work with the techniques we show you in the course... and as a result they will magnify your chances of success ten fold...
The fact is that to get your hands on these items in the real world would hypothetically cost hundreds if not thousands of dollars in 'one time payments' and monthly fees ... plus we will also give you lifetime access to them with updates as and when we make them.
| | | |
| --- | --- | --- |
| | Our "In-House" Tools & Software So You Can Replicate Our Success...Fast! | |
Then there's our incredible support...
Everyone needs support... and we give it in spades. Our FULL unrivalled support is categorically the best in the industry with numerous staff answering questions in both the support desk and our forum...
In fact, in the past 12 months we have personally answered over 15,000 questions and queries by email... and just take a look at the number of posts Steve has made in the 'help forum' to get a feel for the level of personal dedication we have...

For you, our goal is 24 hour response... although very often its within hours or even minutes...

| | | |
| --- | --- | --- |
| | Access To Our Buzzing Forum & Full "Round The Clock" Email Support! | |

...And Here's Exactly What We Are Going To Reveal In Each Module In Commission Blueprint 2.0:
The amount of training is so vast that it would take hours to go through everything in minute detail... so we're just going to give you a quick overview of each module and set out the step by step processes...
...But just bare in mind, once you understand all these techniques and put them into practice, the chances are that you'll never be poor again!
Module 1 - Replicate And Implement Our Formula's FAST...

In this first section of the course we'll be giving you a highly detailed video introduction to the Commission Blueprint 2.0 methodologies and by the end you'll realize to the fullest extent why these affiliate formulas are so ultra realistic.

It'll give you comprehensive and critical information revealing how to 'quick start' the process and implement all our secrets and techniques so you can start making money in the shortest possible time frame.
Module 2 - Discover Untapped Traffic Sources And Pin-Point Buyers...

This is an absolutely crucial stage in the process and after giving you free lifetime access to one the most powerful research tools on the planet, you'll be able to super charge your way to affiliate marketing profits no matter which of our strategies you decide to implement.

You'll find out how to target red hot buyers who'll snap up anything you sell them and niches and markets that have little or no competition so you can quickly dominate the most profitable keywords in Google and receive a multitude of targeted visitors without spending a single cent.
Module 3 - Identify Products That Have The Potential To Make You Thousands...

In this section we'll reveal ALL our techniques and concepts for picking highly profitable offers to promote. This step is usually the major downfall for many affiliate marketers - unless you follow our step by step strategies to get it right EVERY TIME... and rake in huge amount of cash as a result.

Essentially we deliver a "behind the scenes" exposé showing you exactly how to find and assess the highest quality items, not only for conversion but also market viability... AND give you access to a tool that will make this process seem like a walk in park.
Module 4 - Build Highly Converting Sites To Draw In Massive Affiliate Sales...

This module will reveal how to create websites and landing pages that automatically draw in sales, establish you as a market leader in your niche and will generate repeat buyers for weeks, months or even years to come.

We'll also give you detailed step by step instructions on how to use our "push button" automated affiliate site builder tool which instantly creates replicas of our own proven and time-tested websites which consistently generate massive conversions... and show you how to use the power of Web 2.0 to start making money in record time.
Module 5 - Draw In The Maximum Cash With Our Proven Conversion Strategies...

In this crucial module we'll show you how to turn your websites into conversion monsters by revealing some *ultra sensitive* strategies you can use on your websites, landing pages and promotions to vastly increase your affiliate sales.

We'll reveal a formula that has made us $50,000 in one day, a bonues incentive strategy that has the potential to double your earning by making a few simple adjustments... and even a simple method to add a few extra lines of text to your site that could multiply the cash you make in 2 seconds flat!
Module 6 - Get Free Website Visitors With Our Killer SEO Tactics...

In Module 6 we'll show you the insane, *unreleased* and almost outrageously sneaky techniques behind successful SEO that'll help you drive thousands of laser targeted visitors to your sites without spending a dime.

Essentially this video series will spell out our concrete fool-proof plan that literally forces you get colossal traffic for FREE and by the end of this section of the course you'll realize just how easy getting visitors and sales can really be... if you know what we do!
Module 7 - How To Master Google Adwords And Paid Advertising...

This section reveals the exact formulas behind successful Google Adwords promotions that we have used to generate millions of dollars over the past 2 years.

We'll show you the google ad writing techniques that allow us to dominate any market (every time), how to easily scale for profit in the same way that we did for a $500,000 profit campaign... and we'll also throw you all the bidding, tracking and 'quality' processes that you can replicate to potentially generate as much as us - in other words, more money in a day than most people make in 2 months at a 9 to 5 day job!
Module 8 - Explode Your Exposure With Social Media & Article Marketing...

This module will explain how to become a successful Article Marketing and Social Media Traffic marketer and how you can use them to the fullest advantage to dramatically boost your sales and profits.

This section is perfect for beginners as it doesn't cost a dime to implement and by following and replicating the techniques in the case studies that we reveal, you'll be able to start raking in the cash in record time... especially with a method that had us rank at position #1 in Google in just 3 hours!
Module 9 - List Building & Email Marketing: The Secret To Consistent Profits...

This section will reveal how to make huge affiliate commissions with List Building and Email Marketing. These strategies are essential for building a long term profitable business and are the precise ones that we have used to generate $52,000 from one email... in just one day!

List building is one of the most important factor in affiliate marketing and one

where the BIG BUCKS really start rolling in if you know what we do. (We'll reveal ALL in case studies)
Module 10 - Moving Forward And How To Begin Making Money FAST...

In this module we'll conclude the Commission Blueprint 2.0 course and show you how to move forward in your affiliate marketing career and what to do next by handing you two exceptionally detailed profit plans you can follow...

The fact is, that over the past few years we've cashed in to the tune of millions of dollars doing exactly what we describe in the course and we'll reveal the starting points that you need to take right now so you can do it too!

Now Just Check Out What Our Customers Have To Say About Us And Our Previous Products...
"Starting To Consistently Make Money Online..."

My first exposure to doing anything on the internet was when I tried to create a website for my Dad's business. I soon started my own websites and got caught up in the "make money online" whirlpool. I spent literally thousands on all sorts of different products and the next big thing trying to make that crucial break through.

Then along came Tim and Steve. I started with Commission Blueprint and had a small amount of success. But then they released Niche Blueprint (I am in Australia and got up at 3am just to make sure I didn't miss out). Niche Blueprint was different to anything I had every seen before and actually worked! I was finally starting to consistently make money online.

And then along came SEM Business Blueprint... and WOW! It all finally clicked. They explained everything so clearly (as they always do) and provided me with everything I needed to start my very own consulting business. Now it is only a matter of time before I get enough clients to quit my "day job"... all thanks to Tim and Steve.

Thanks guys. I will gladly recommend ANY of your products to anyone interested in marketing online.

Todd Molloy
MolloyMarketing.com
"Am A Customer For Life..."

When I purchased Commission Blueprint I knew straight away that it was very different from the other IM products I had purchased in the past. The name says it all because it really is a step-by-step, go here-do this, go there-do that blueprint.

Steve and Tim's Commission Blueprint delivered on there promise that the IM "combination" will finally click and everything will fall into place, and they have been over delivering ever since.

From the Commission Blueprint forum (worth the price of admission alone) to Niche Blueprint, the monthly membership content and now SEM Blueprint, I am constantly and consistently impressed. I am a customer for life.


David Sadows
"Steve and Tim Have Consistently Overdelivered..."

As an active member of the Commission BluePrint Forum, I can attest personally to the amount of new Internet Marketers who have achieved their 1st sales and continue to make sales everyday by allowing Steve and Tim to lead them by the hand to internet marketing success and also veteran IM'ers who have had modest success to become wildly successful, using the simple steps outlined in Commission BluePrint.

Steve and Tim have consistently over delivered with every new product the have released and their 2nd was no exception. In Niche BluePrint, they taught me every White Hat trick and tactic I needed to know to find profitable niches, find dropshippers for your niche, create sales converting websites and how to drive FREE TRAFFIC to your website. It is another step by step blueprint to creating multiple, profitable niche websites with almost no monthly overhead.

Which leads us to the latest offering from Steve and Tim, SEM Business BluePrint. This is so exciting because with this program you could be as little as 2 months away quitting your job! And it's so simple, even someone who has no IM experience can do it. Again, as a monthly member of Commission BluePrint, I previewed the opportunity 2 months ago and I am using it as a spring board to launch myself and my family to financial security.

Thanks For everything Tim And Steve. You guys are the Best!

JR
"I've Never Found Products Of The Same Quality As Those Created By Tim And Steve..."

Before finding Commisison Blueprint and Niche Blueprint I had tried thousands of dollars worth of internet marketing products, all with mixed success. Nothing gave me a solid step by step approach to making money online.

Since I began using Commission Blueprint I have taken a PPC campaign that was virtually dead and transformed it into something that now makes me thousands of dollars every single month on autopilot - I dont even touch it! Commission Blueprint is the "bible" of PPC marketing. It is by far the best guide I've found for anything to do with AdWords or PPC Marketing.

I've got similar results through using Niche Blueprint. I have managed to get top 5 rankings in Google for over 50 keywords since using the techniques taught in Niche Blueprint. As you can proabbly imagine, this means I'm getting a ton of targeted visitors to my sites, and a ton of conversions!

I'm a big fan of Commisison Blueprint and Niche Blueprint, but thats not all. I'm also using HippoJaw on a daily basis to monitor my sites and continually improve them. I've used numerous tools similar to HippoJaw in the past but non has given me the ease of use and functionality that HippoJaw has. The split-teesting function in HippoJaw is dead easy to use and unlike Google Analytics, it can be set up in about 2 minutes flat!

Steve and Tim always overdeliver and having been part of their monthly membership plan from day 1 I've recieved a heap of useful tools and tips, things that most IM gurus never part with. I can honsestly say that in the 5 years I've been invloved in Internet Marketing, I've never found products of the same quality as those created by Tim and Steve.

Thanks a heap guys - you never let me down!

Aidan.